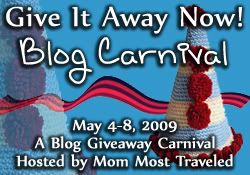 I DO!! And, I have been so incredibly lucky to win some very generous, gorgeous giveaways!
So, in a pay-it-forward I would like to offer something to give away this week in conjunction with this fun Blog Carnival hosted by
Mom Most Traveled.
I am offering to one lucky reader a
Votive Candle Warmer.
This is one of my absolute favourite things! You simply put a candle in the warmer, switch it on and let the candle melt, no need to light the candle. Your candles will last so much longer. Your home will be filled with your favourite scents, and you never need to worry about the dangers of candles.
Please leave a comment on this post in order to gain your entry into my giveaway.
The giveaway is open to everyone (blogger and non-blogger), just be sure to leave an email address that I can reach you at should you be the winner.
This giveaway is running from May 4 until May 8, 2009. At which time I will chose a winner by using random number generator.
I will notify the winner between May 8 and May 10, 2009.
Be sure to visit
Mom Most Traveled
to enter the other great giveaways which are taking place.
Good Luck!